Beautiful Salvation
Blood Prince Series: Book Five
A princess under a curse. A blood-spilling earth god stripped of half his power. The longer the land goes without the power it needs, the more it will take to awaken the kingdom's…Beautiful Salvation.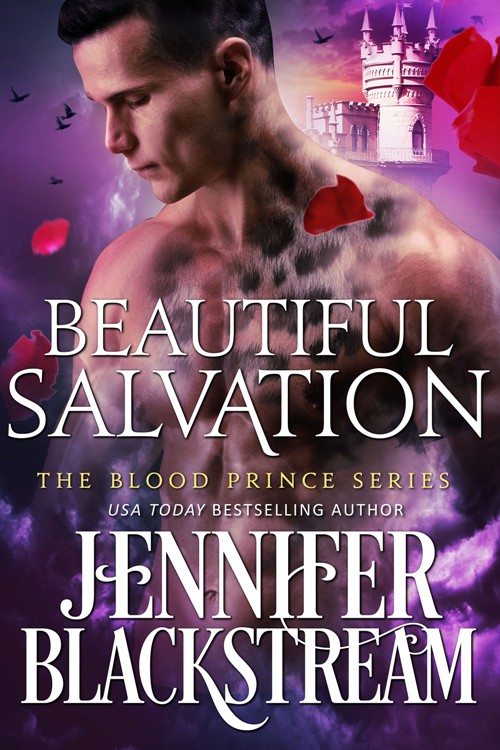 A DARK GOD ROBBED OF HIS POWER
A hundred years ago, Saamal turned his back on his lover, threw her away for the promise of a new bride who would double his power. In retribution, the scorned goddess cursed his would-be wife, doomed her to die before they could be married. Saamal was forced to give up half his power to save her, and even at his best was only able to turn death to sleep. Now he is no longer all-powerful, and his land suffers with his fall from power. He can only wait at the beside of his sleeping fiancé, hoping that an otherworldly benefactor and the new allies she's brought him can somehow help him break the spell.
HER WORLD IS AN ILLUSION
Aiyana is the fiancé of the god of death—but she doesn't know it. Plagued by nightmares of a different world and a growing darkness inside her, she finally flees her the protection of her castle in a desperate bid for answers. What she learns changes everything. The handsome stranger with the bottomless black eyes speaks of a curse, promises that a kiss is the only way to break the spell and return her to the real world. But his reputation precedes him. And the god of death is not to be trusted.
WAKE UP…
The land is bound to its royal family—and its god. Saamal isn't the only one who's been starving. If he can't wake Aiyana soon, if he can't fulfill the prophecy and get his power back, the land is going to take matters into its own hands. If they are going to save their kingdom, Aiyana and Saamal have to overcome the past and succumb to the connection that binds them together—body and soul.
Quick Facts
Publisher:
Skeleton Key Publishing
Release Date:
November 2015
Creatures Included:
god, goddess, loup garou, vampire, incubus, angel, rusalka, sun elemental, wind elemental