Before Midnight
Blood Prince Series: Book One
All kinds of things can happen when you don't leave the ball...Before Midnight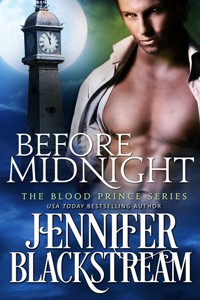 AN ALPHA WEREWOLF FIGHTING A POWERFUL CURSE
A ferocious warrior and dedicated prince, Etienne has protected his kingdom with tooth and claw his entire life. Now he's going to lose it all. A witch's "blessing" is stealing the beast from within him, dooming him to become a human by the next full moon. Despair and futile rage threaten to destroy him, until he discovers the key to his salvation in a young beauty whose gentle nature coaxes him back from the brink.
A BEAUTY ENSLAVED
A bitter survivor of a surprise attack by a loup garou, Loupe fights a daily battle against the monstrous beast inside her. Constantly tempted by dark urges, she bears her stepfamily's cruelty with gritted teeth, hiding the truth of what she is behind a mask of obedience and cowardice. Then she meets a man who threatens her control—a prince with a ravenous hunger in his eyes that calls to her, human and beast alike…
WHEN THE FULL MOON RISES
A grand ball will bring them together, but if Loupe is going to get the kiss she wants, she must face the darkness inside her long enough to give Etienne the bite he needs.
And she needs to do it before her bloodthirsty stepfamily hunts them down and slaughters them both…
Quick Facts
Publisher:
Skeleton Key Publishing
Creatures Included:
lycanthrope, loup garou