Divine Scales
Blood Prince Series: Book Four
A mermaid with legs. An angel with a curse. With the weight of magic working against them it will take more than a kiss to balance…the Divine Scales.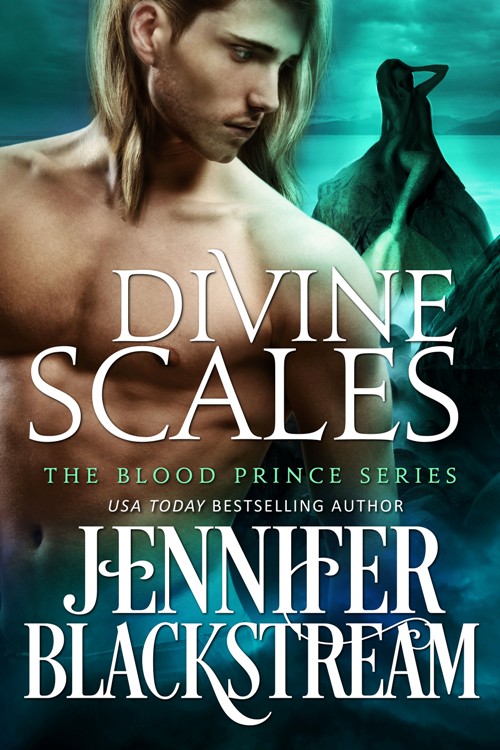 A BRUTAL WARRIOR WITH WINGS
Patricio, angelic prince of Meropis, is a ruthless executioner. Armed with an enchanted sword, he slays the criminals of his kingdom, tattooing their crimes on their flesh and drinking the darkness from their souls. With blood on his hands and ice in his heart, he should strike terror in the hearts of those who witness him performing his terrible rites—but he doesn't. The sister of one of his victims cursed him, assuring that the family of every sinner would sing his praises, heap love and affection on him as they thanked him for killing their kin. When the sadistic curse sours the first hint of romance Patricio has had in years, he leaves behind the sensual mermaid and resigns himself to a lonely fate …only to be shocked when she bargains for the legs to follow him.
OUT OF HER ELEMENT
Marcela's world has been turned upside-down–literally. Once a proud member of her father King Triton's royal guard, she's now the victim of an angel's curse. Enchanted into false adoration bordering on obsession, she traded her tail–and her voice– for the legs she needed to pursue the object of her desire. In a cruel twist of fate, the very magic that gave her the means to pursue her passion also broke the spell that caused it. Now the rose-colored glasses are off, and Marcela's seeing red.
PRIDE VS PREJUDICE
He's used to spell-induced affection and she'd been burned once before. Passion infuses the air between them, but how can they trust their desire when so much magic has muddied the waters?
Quick Facts
Publisher:
Skeleton Key Publishing
Creatures Included:
angel, witch, mermaid