Golden Stair
Blood Prince Series: Book Three
What demon doesn't dream of climbing the Golden Stair?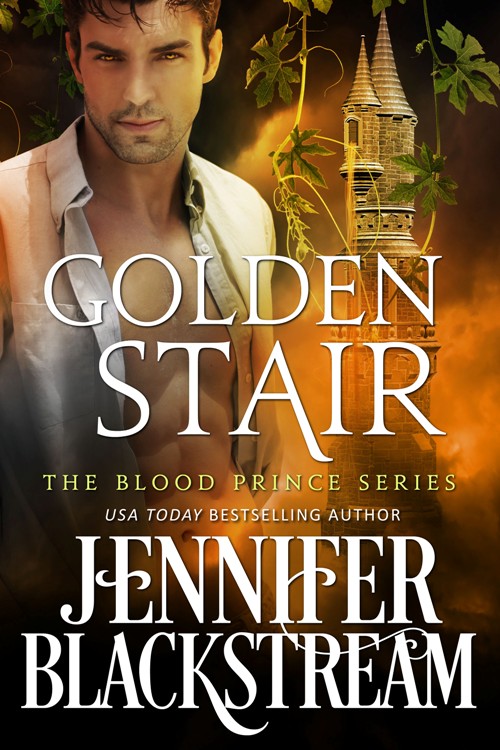 A WICKEDLY SEDUCTIVE DEMON
Bound by a divine vow, the demon prince Adonis is forbidden from seeking the one thing he wants most—true love. Resigned to his fate, he hides his pain behind a cryptic smile and a puff of smoke, carrying on with his carnal pursuits of the flesh as his heart dies a little more with every passing lover. Then he meets a woman with the power to save him—but it will cost her her life.
IF SHE LEAVES, SHE CAN NEVER GO HOME AGAIN
Ivy has lived alone with her mother, locked away from the rest of the world, for her entire life. When a devastatingly handsome demon brings her isolation to a sudden and dramatic end, it takes only one searing kiss to shatter Ivy's world. Now she's desperate to see what else is out there, to have a life beyond the tiny existence she's led so far.  But if she leaves, there will be no going home. And the demon is clear about what he can offer her…and what he can't.
BODY AND SOUL
An evil witch does not willingly give up the power she's spent a lifetime building, and Ivy's mother is ready to do whatever it takes to keep her daughter home. Despite the danger, Adonis and Ivy are drawn together like phoenixes to flame—and if they're not careful, they'll both burn.
Quick Facts
Publisher:
Skeleton Key Publishing
Release Date:
February 2014
Creatures Included:
incubus, witch, vampire, solar descendant