The Pirate's Witch
Blood Prince Series: Bonus Adventure
What happens when a one-handed pirate tries to strong-arm a witch?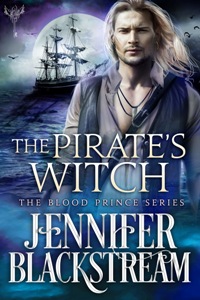 A fast-paced tale of kidnapping, redemption, and new beginnings by USA Today bestselling author Jennifer Blackstream.
Tyr is a pirate on a mission to catch the firebird. The penalty for failure? Death by ogre king. There is only one woman who can help him find the bird he needs to save his life.
Unfortunately for him, this beautiful woman is an earth witch, and utterly unwilling to be parted from the land that fuels her power.
Unfortunately for her, a pirate only asks politely once…
What readers are saying:
"Another masterpiece!"
"I have a new favorite Pirate."
+ Cliffhanger-free
+ HEA
BLOOD PRINCE SERIES READING ORDER: 
Book 1 – Before Midnight
Book 2 – One Bite
Book 3 – Golden Stair
Book 4 – Divine Scales
Book 5 – Beautiful Salvation – Final Installment!
BLOOD PRINCE WORLD 
What Big Teeth You Have
Dead to Begin With
BLOOD REALM SERIES READING ORDER (SPIN-OFF FROM BLOOD PRINCE SERIES): 
Book 1 – All for a Rose
Book 2 – Blue Voodoo
Book 3 – The Archer
Quick Facts
Publisher:
Skeleton Key Publishing
Release Date:
October 4th, 2016
Genre:
Paranormal/Fantasy Romance
Creatures Included:
Witch, Firebird, Ogre