The Pirate's Witch
Blood Prince Series: Bonus Adventure
What happens when a one-handed pirate tries to strong-arm a witch?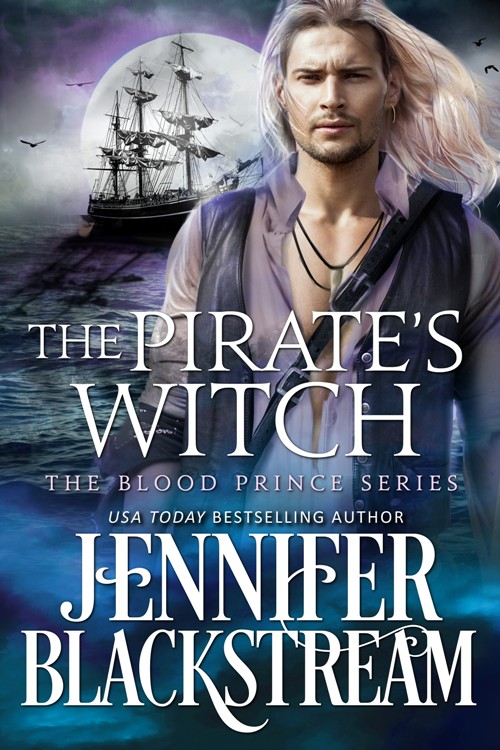 A fast-paced tale of kidnapping, redemption, and new beginnings by USA Today bestselling author Jennifer Blackstream.
HE WON'T TAKE NO FOR AN ANSWER
Tyr is going to die. Unless he can capture the elusive firebird and deliver it to the ogre king, the one-handed pirate will become a gruesome example of what happens when you cross the ogres. With only his wits and his charm, he must now seek out the one woman who can help him catch his prey. Failing that…. Well, a pirate only asks politely once.
SHE SAID NO
Ingrid is an earth witch with every intention of staying on earth. No pirate, no matter how dashing, will lure her away from her home onto a floating deathtrap. Unfortunately, she underestimated Tyr's determination. And now he's underestimated hers…
THE VALUE OF A LIFE
He claims to value no one's life more than his own. Ingrid has three days to change his mind. Or change her own…
+ Cliffhanger-free
+ HEA
BLOOD PRINCE SERIES READING ORDER: 
Book 1 – Before Midnight
Book 2 – One Bite
Book 3 – Golden Stair
Book 4 – Divine Scales
Book 5 – Beautiful Salvation – Final Installment!
BLOOD PRINCE WORLD 
What Big Teeth You Have
Dead to Begin With
BLOOD REALM SERIES READING ORDER (SPIN-OFF FROM BLOOD PRINCE SERIES): 
Book 1 – All for a Rose
Book 2 – Blue Voodoo
Book 3 – The Archer
Quick Facts
Publisher:
Skeleton Key Publishing
Release Date:
October 4th, 2016
Genre:
Paranormal/Fantasy Romance
Creatures Included:
Witch, Firebird, Ogre